8 things you need to know about laser printers
We know how perplexing it can be to purchase a new laser printer. There are hundreds of models available on the market — not to mention their individual consumables like ink and toner cartridges!
It can be easy to get lost in all the jargon and options available, which is why we've put together some common FAQs on getting the best laser printer performance for your particular needs. Here are eight essentials you need to know when shopping for laser printers and their consumables.
Q: What is the difference between single-pass and multi-pass colour printers?
A multi-pass colour printer takes four cycles to place each of the colours onto the transfer drum and then finally onto the page. This is a slower and older technology than a single pass colour printer which prints each colour straight onto the page in one single pass.
There's no right or wrong answer to whether you should choose a multi-pass or single-pass printer, however, it can have an impact on the operational costs. Generally speaking, we recommend a single-pass colour printer for a more cost-effective and contemporary printing solution.
Q: What is a toner cartridge refill?
A refilled cartridge has only the toner replaced and reuses the old components of the cartridge. This can lead to reduced image quality and cartridge related issues which is why we generally do not recommend toner cartridge refills.
Q: What is a remanufactured toner cartridge?
A remanufactured toner cartridge has some if not all the worn components replaced. The amount of replaced parts can depend on the company rebuilding the cartridge.
These cartridges can be just as good as the manufacturer's original but we recommend doing some research before settling on a particular remanufactured cartridge provider.
Q: What is a compatible toner cartridge?
A compatible toner cartridge is a new cartridge that is made by a third party, not a genuine manufacturer. It may or may not use genuine internal components depending on the company.
Again, these toner cartridges can be as good as the real thing but it is worth reading some reviews about the cartridge provider and their products before investing.
Q: What is a genuine remanufactured toner cartridge?
A genuine remanufactured toner cartridge is a cartridge that is rebuilt with genuine parts to the manufacturer's specifications by the manufacturer. In most instances, this is as good as new and is highly recommended by Australian Printer Services Pty Ltd.
Q: Why use new genuine or remanufactured genuine toner cartridges over the others?
More often than not, genuine cartridges will outlast the non-genuine cartridges. They also have the ability to extend your printer's life.
Third-party toners are built to a budget which may mean components are reused, leading to image quality problems as well as the reduced life span of the printer or cartridge. With this in mind, we recommend opting for genuine toner cartridges for the best laser printer performance possible.
Q: How can I tell if it is a genuine toner cartridge?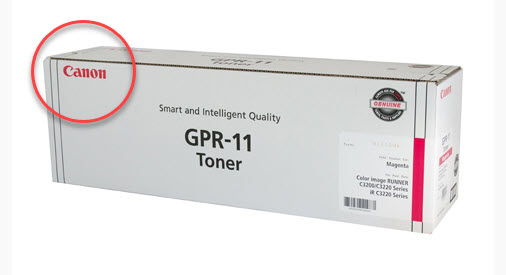 A genuine toner cartridge will have the manufacturer's logo and trademark on the box and sometimes even the cartridge. Non-genuine cartridges are generally in a plain-looking box and can have words like "for use in" and "compatible with".
Q: What should I watch out for when buying an extended warranty?
It's important to know that extended warranties from some retail outlets are insurance policies — not an extended manufacturer's warranty. If you intend to purchase an extended warranty for your printer then ensure you receive a certificate from the manufacturer with the product's serial number and the term of the contract.
An invoice stating that you purchased an extended warranty is not always sufficient proof of purchase for the manufacturer's extended warranty.
Talk to our professional team about the best laser printer and compatible cartridges for you
At Australian Printer Services, we have more than 30 years of technical expertise and we're proud to call ourselves market leaders in laser printer service. If you have any questions or concerns when shopping for a laser printer or replacement toner cartridges, feel free to give us a call on 1300 138 066.
Our knowledgeable team would be more than happy to point you in the right direction for premium printer performance.
WE HAVE SERVICED MELBOURNE
SINCE 1997 OVER 25 YEARS