Printer Services Newsletter 3.6

Printer Services Newsletter 3.6
As the end of June draws near and the dreaded tax time looms it's the time when offices give their printers a good workout. You may sometimes wonder how your printer places that image onto the piece of paper you feed into it.
How a Laser Printer Works
The way a laser printer prints is called a print cycle which can be broken down in to three simple sections; Pre print, Print and Post Print. Each of these sections, using the printers' internal components, work together to create the final printed page.
Pre Print
As the print cycle begins, the outside of the drum unit or photoconductor is covered in a static charge. This charge prepares the drum for the next process.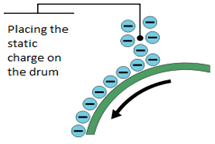 Print
During the print section of the cycle, three things happen to create the printed image. First, the drum is written on by the laser scanner unit. This changes the static charge where the laser beam touches so that the drum will attract the toner to it.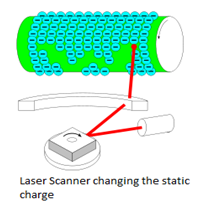 The next part to this process is the development stage where the toner is placed on the drum by the developer unit. Toner will only stick to the areas of the drums' static charge changed by the laser scanner. Finally as the paper passes between the drum and a transfer roller, the toner is transferred across. This happens because the level of magnetic attraction is greater from the transfer roller than the charge holding the toner on the drum.
Post Print
The final part of the printing cycle uses the fuser unit, via heat and pressure, to melt the toner on to the paper. The paper is then exited from the printer and there you have your print.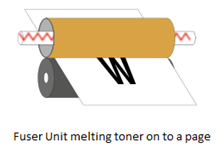 WE HAVE SERVICED MELBOURNE
SINCE 1997 OVER 20 YEARS